Sea Owl Ball Cap:

$15.00
These plaques are the works of shipmate

John Barnes MM 63-67. We only have a few of them, they will go fast..order now

Thanks John !!

$25.00 plus shipping

Measures 15" X 7"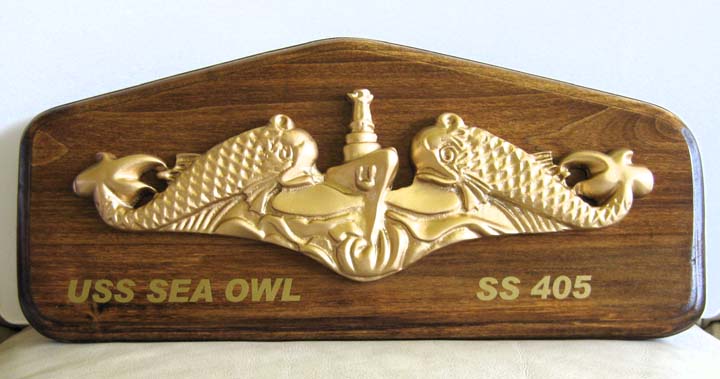 Patches:
Sweatshirt & Denim shirts:
????

These shirts are available as special order.

Contact Storekeeper !!!

????
Sea Owl Coach Jackets are available
Contact Ed for details
Golf Shirts: Due to new postal rates. it is now necessary to charge shipping. Shipping rates are: 1 shirt $5.00 2-3 shirts $10.00
4 + shirts $15.00
New for this year
100% Polyester Shirts

Small to 2X $ 25.00
2Xand 3X $ 30.00

Available in Blue,White,Red
with either logo

Small to 2X $ 20.00
3X to 4X $ 25.00

Golf shirts are available with either
the Good Guys logo or Dolphins w/USS Sea Owl SS405
Sea Owl Painting:
$8.00
includes shipping
Sea Owl T-Shirt:
All sizes are available.

Navy Blue T-Shirts

With Silver Silk Screen Logo

$12.00

Special Order Only